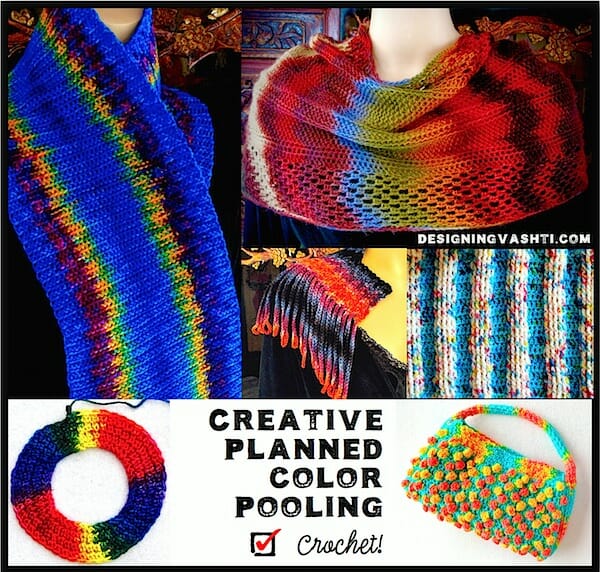 Updated on

4/16/18

. View the above image full size. This is a conveniently clickable group of things I mention and display in Creative Planned Color Pooling classes. I teach the next one on July 28, 2018 in Portland OR. This page will likely be updated again before class time and possibly after.     — Vashti Braha
? Thinking of signing up for this class? My Color Pooling Developments blog post was written with you in mind.
Crochet Patterns & Crochet Alongs
Recommended Issues of Vashti's Crochet Inspirations Newsletter
Pooling Classes, Blogged
Photo Albums & Inspiration Boards
Any Books on Planned Pooling with Crochet?
Found one! Yarn Pooling Made Easy by Marly Bird. Published by Leisure Arts, 2017.
Color Pooling Crocheters and Knitters
Pooled Knits Ravelry group
Planned pooling crochet patterns: Ravelry doesn't seem to have a category for this technique yet, so I used the keyword "pooling". Of 23 search results it looks like 20 are true planned pooling. Of these, 17 are argyles, and most appear to be seed stitch (as of

4/16/18

). This is a self-updating link.
Planned pooling knitting patterns: as with the crochet search link above, I used a keyword search and the link is self updating. Of the 91 results (as of

4/16/18

), about 80 are true planned pooling designs.
Karla Stuebing's 2013 article, "Art and Science of Planned Pooling." It's about knitting but very inspiring for crochet.
I expect to add more articles and blog posts written by others as I finish updating the July 2018 class handout. Between 2016 and now, planned pooling has become a popular technique!