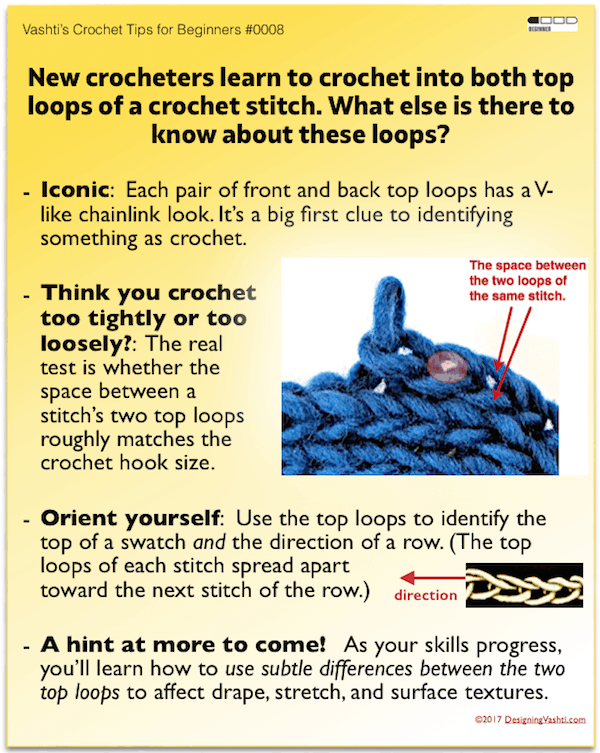 About Today's Tip for Crochet Beginners
I'm going to unpack the "outdated advice" part.
For reasons I still haven't figured out, misconceptions and outright errors (alternative facts?) about slip stitches have been repeated uncritically in crochet how-to books for decades. I've distilled them all into the following four sentences, which are also found in my Slip Stitch Crochet 101 class handout.
Can you spot all of the unhelpful advice?
"There is one kind of slip stitch and it is crocheted tightly. It is useful only occasionally, for a few things, such as joining a round, closing a picot, or seaming. Don't bother trying to make anything with it, it has no height. It doesn't really count as a stitch at all; it's a non–stitch." 
Crochet beginners have been discouraged from exploring slip stitches only, not other basic stitches. Why? It's not because slip stitches are tricky for beginners. In my classes, the experienced crocheters struggle more (thanks to the misinformation).
New Rules for Crochet Beginners About Slip Stitches
Substitute the fake facts above with this:
"Thinking of slip stitches as a group of stitches is better than reducing them all to one stitch. It aids understanding, inspires innovation, and improves pattern writing. Go up at least two crochet hook sizes to crochet them loosely unless a pattern specifies otherwise. Also assume you'll be crocheting into one top loop instead of both.

Slip stitches are exceedingly versatile, useful, and pleasing for many of the things crocheters make. In fact, slip stitches are often preferable to other stitches, such as for ribbing, or for a thin, supple fabric that conserves yarn. They may also be fine for joining a round, closing a picot, or seaming, but not always. (For example, slipping a loop through to join is more invisible than a slip stitch; a single crochet makes a better picot in some patterns; a slip stitch or single crochet plus a chain-1 is sometimes a better seam.)

Slip stitches clearly have height—how odd that it needs to be stated. The evidence is in the heaps of very wearable scarves and sweaters. You can also crochet around the post of a slip stitch. Not only does a slip stitch have height, the height varies depending on the type of slip stitch. As a starting point, expect front-loop types to be taller than back-loop types."
I learned about crocheting slip stitch projects *decades* after learning how to crochet everything else. There's no reason for crochet beginners to wait decades like I did!