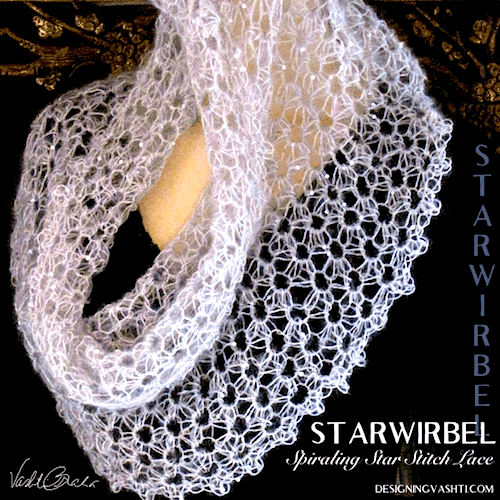 Updated on 4/08/18

. View full size Starwirbel images. This is a conveniently clickable group of things I mention in The Starwirbel Way: Lacy Star Stitches classes. I teach the next one on July 26, 2018 in Portland OR. See student feedback. I show a lots of published and unpublished star stitch designs in this class! Each illustrates the stitches and techniques learned. Included are links to my star stitch crochet projects and patterns.  — Vashti Braha
This class tends to sell out. Keep checking back at the registration page. Sometimes a space opens up. 
This page will likely be updated again before class time (July 26 2018) and possibly after.
Crochet Patterns & Crochet Alongs
Recommended Issues of Vashti's Crochet Inspirations Newsletter
Starwirbel Class, Blogged
Inspiration Boards for this Class
Star Stitch Crocheting (Featured by Pinterest: "We think your board is amazing, and it really demonstrates what Pinterest is all about!")
My Star Stitches Flickr album since 2013. Note that newer images display last (chronologically), the default in Flickr.